Custom shape windows are unique and bring an elegant look to your house.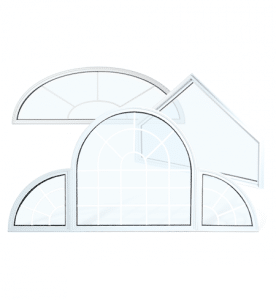 Create Your Own Custom Shape Windows With Us
Get the perfect windows for your home with our custom shape windows. Manufactured in Calgary with the latest technology, our
custom shape windows
can be designed in numerous shapes, perfectly enhancing the decor and style of your home. Our Calgary windows have multi-chamber frames designed to reduce condensation build-up and welded frames and sash corners to provide extra strength and security. Coupled with airtight permanent seals, and double-to-triple pane glasses, our windows are energy-efficient, guaranteeing zero leaks. Constructed to fit any corner and existing frames, they're the perfect finishing touch to any home that wants to bring in more light and a cool breeze.
Cathedral with Extended Edges
Eyebrow with Extended Edges
Half Eyebrow with Extended Edges
Hexagon with Extended Edges
Octagon with Extended Edges
Quarter Arch with Extended Edges
Custom Windows For Every Home
If it's time for you to upgrade your existing windows in Calgary, you'll find that getting a custom fit window will improve the overall aesthetic and energy efficiency of your home. Customization is a key part of our work, so we are happy to create a window shape that fits with your personal project. With our experience, we can design custom shape windows of all sizes, including cathedral, circle top, hexagon, octagon, oval, pentagon, quarter arch, and many others. Regardless of the shape you want, our installers will guarantee a perfect fit into your remaining corners. 
Whether you like to bask in the sunlight that radiates through the big open windows, or you enjoy letting in some fresh air, our custom shape windows are perfect for any room you desire. If style, energy efficiency and functionality are important for you, these are the windows for your home.
CHOOSE ANY TYPE OF FINISH & STYLE FOR YOUR WINDOW