The Unmatched Convenience of Sliding Patio Doors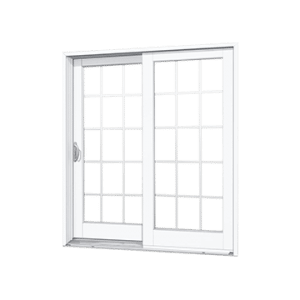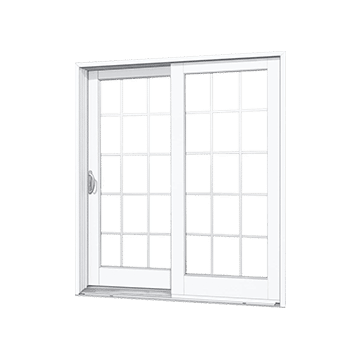 Our Variety of Sliding Patio Doors Will Knock Your Socks Off, Guaranteed
With sliding patio doors, you can enhance the living space of your home without compromising your privacy and security. Made with the latest technology right here in Calgary, these doors easily slide open and close, providing you with simple functionality and comfort. Available in a range of different materials, such as PVC, welded PVC, aluminum, wood or a hybrid mixture, all our patio sliding doors are of the highest quality; designed to withstand weather conditions and provide security. 
Just like regular windows in Calgary, these doors increase natural light in small spaces, bring a smile to your face and make your outdoor space more accessible and visually appealing. With our sliding
patio doors in Calgary
, you can transform your home for the better.
Patio doors are large glass doors that provide access to a patio, balcony, or outdoor area. They are usually made of glass panels and operate on a sliding or swinging mechanism. Patio doors are a popular choice for homeowners because they offer natural light, easy access to outdoor areas, and can enhance the overall aesthetic of a home. They are available in various materials such as vinyl, wood, aluminum, and fiberglass, and can be customized to fit the unique needs of a home. Patio doors also provide an energy-efficient solution as they can help regulate the temperature and reduce energy costs.
Patio Doors Replacement & Installation In Calgary
Patio Door Configurations
We Know Canadian Patio Sliding Doors!
Sliding glass doors are one of the best home improvement projects because they impact your indoor and outdoor living space. With our installation service for patio doors in Calgary, we can completely transform your home. We can safely and securely install your new sliding patio doors, ensuring that we enhance your home at the same time.
If you want to improve the functionality, appearance and value of your home, you can count on us to deliver professional service. Our team is ready to answer your questions and offer a quote for installation at your convenience. 
Patio Sliding Doors: For More Than Meets the Eye
Sliding patio glass doors have become increasingly popular in recent years, and for good reason. These doors are not only stylish and modern, but they also offer a range of benefits that make them a great investment for any home. So, how are sliding patio glass doors made, and why are they so great? Firstly, let's take a look at how these doors are made. Sliding patio glass doors are typically made up of two or more panels of glass that slide along tracks on either side of the door frame. The glass panels are made from tempered glass, which is strong and durable, and they are typically held in place by a sturdy aluminum frame. The tracks that the doors slide along are also made from aluminum, and they are designed to be smooth and easy to operate. Now, let's talk about why sliding patio glass doors are so great. One of the main benefits of these doors is that they provide a seamless connection between your indoor and outdoor living spaces. When the doors are open, you can enjoy fresh air and natural light, and you can easily move between your indoor and outdoor areas.
This is especially useful if you enjoy hosting outdoor gatherings or if you have children or pets who like to play outside. Another benefit of sliding patio glass doors is that they are energy-efficient. The tempered glass panels help to insulate your home, keeping warm air inside during the winter and cool air inside during the summer. This can help to reduce your energy bills and make your home more comfortable all year round. Finally, sliding patio glass doors are also very low-maintenance. The tempered glass is easy to clean and resistant to scratches and cracks, and the aluminum frame is durable and weather-resistant. This means that your doors will last for many years with minimal maintenance, making them a great investment for any homeowner. Sliding patio glass doors are a great choice for anyone looking to enhance their home's style and functionality. They are made from high-quality materials, provide a seamless connection between indoor and outdoor spaces, are energy-efficient, and are low-maintenance.
At Window Seal West, we believe exceptional quality shouldn't come with a heavy price tag.
My circumstances for changing my window and door were unfortunate. Window Seal West came recommended by my insurance company and the guys' service was extremely professional with things done timely. All my questions were answered and my new stuff is more efficient and better secure than what I have before. Thanks again guys!
I love our new French doors on the patio! The design is amazing and makes our patio feel like a little café. It took a while to find the right door, but this one is perfect! Highly recommend Window Seal West if you want great design, install and service.
Quick install, done on time, these guys know what they're talking about. Sergey is really knowledgeable and helped me make the right choice for our basement windows. Cheers!
Replaced all the windows in my house. Best quote from Alex with some helpful advice. Crew came when scheduled and finished in one day. Windows are very nice! Had one glitch which they rectified with no issues. Highly recommend this company.
We hired Window Seal West to produce and install new windows and doors. We enjoyed being able to visit their showroom and see the product. The salesman Mike was helpful and knowledgeable, the estimates were done in our home immediately. The product arrived in a very timely manner. The three-man crew did an excellent job with attention to detail. The inside was finished very nicely with all the necessary trim and modellings. We were very happy with the finished product. We would highly recommend them to others.