Update Your Living Space With Bay & Bow Windows
Are you looking for a window style that will give your neighbours something to envy while enhancing the value of your home? Deliver all that plus a touch of sophistication with bow or bay-style windows.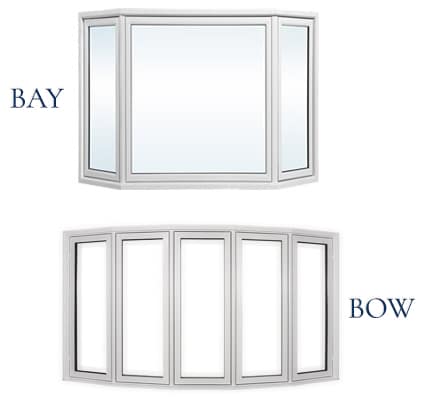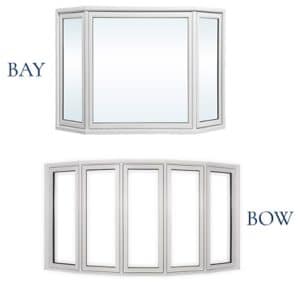 Create New Dimensions With Bay & Bow Windows
Bay and bow windows are two of the most popular windowing options in Calgary. While both are different in some ways, they also share similarities. Bow windows are comprised of four to eight panels, while bay windows are composed of three. However, both provide maximum light exposure and panoramic views for homeowners, while being energy-efficiency, thanks to their double or triple pane glasses and tight seals. This Calgary windows style is the perfect pick if you want to bring your outdoor environment into your living space even without opening a window.
Bay & Bow Windows Replacement
Bay and bow windows are multi-faceted protrusions in the wall of the building, glazed by a number of windows. The sashes of bay windows are arranged at a certain angle relative to each other. The peculiarity of this architectural solution is that all window blocks are connected to each other by one special profile – a bay window sash with adapters.
Bay and bow windows looks elegant and even aristocratic. Gradually they are becoming more and more popular and are now found not only in country cottages, but also in apartment buildings.
Installation of bay and bow windows is accompanied by some difficulties, which are due to:
atypical load on the frame and connecting elements;
the need to combine several units into a single construction;
the highest possible measurement accuracy, as such windows are always made to an individual project. There is no way to adjust the width, especially at the joints of the frames.
The company Window Seal West professionally performs measurements, avoiding inaccuracies and errors in calculations.
Window Seal West is bow window manufacturer in Canada. Our advantages: – Calgary manufacturing facility, – prompt delivery, – professional window installation, – bay and bow windows replacement.
Depending on the requirements to the room in which the bay and bow windows will be installed, you can choose glazing with different characteristics. If the room is unheated – a balcony or loggia, you can give preference to inexpensive bay window tubes and small chamber profiles.
For a living room with heating, you should choose heat-saving and noise-insulating windows with double or more profiles.
You can order bay and bow windows of different shapes: trapezoidal, triangular, semi-circular. According to their location, they can be facade and corner.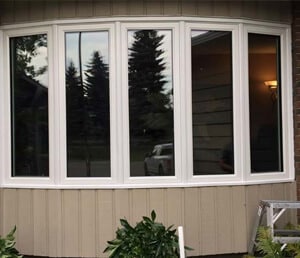 | | |
| --- | --- |
| | |
| | |
| | |
| | Cream (you can choose another color) |
| | |
| | |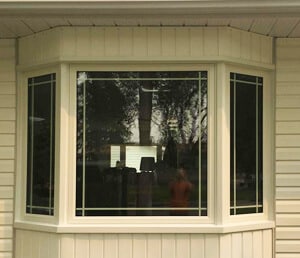 | | |
| --- | --- |
| | |
| | |
| | |
| | White (you can choose another color) |
| | |
| | |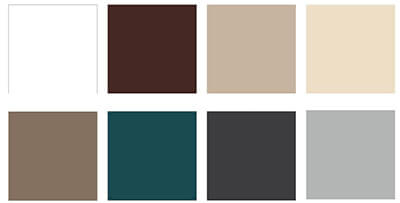 Bay and bow windows are available in a wide palette of colors, sizes and configurations. We customize each window to fit your home, complete with special features such as window grilles or custom hardware. At Window Seal West, we guarantee 100% customer satisfaction with our top rated products and window installation services.
You can buy colored bay and bow windows to match the tone of the interior, facade. They will make the design of your home, apartment, office unique. The color can be matched to the interior palette.
Window Seal West also carries out bay and bow windows replacement. If you have decided to replace your windows, our manager will offer you the ideal solution in terms of time and cost. You can order a measurement and an exact calculation of the project by calling our manager.
Bay & Bow Windows Add Depth to Your Home
Bay and bow windows can enhance your home and transform your interior design for a brand new look on the inside and out. These large windows let in more light and can open up a small room so that it feels more spacious and lively. Manufactured with the latest technology in Calgary, our bay and bow windows are made with the highest-quality hardware and material, guaranteeing longevity and style. 
If you're ready for a home improvement project that will positively impact the value and appearance of your home, our bay and bow windows can work for you. Talk to our installers today and get these beautiful new upgrades. You won't regret it. 
The Beauty of Bow & Bay Windows
Bow bay windows are a beautiful and versatile design element that can add a touch of elegance and sophistication to any home. These windows are typically made up of several panels that curve outward from the building's exterior, creating a gentle arch that adds depth and dimension to any room. Bow bay windows are often used in living rooms, dining rooms, and bedrooms to provide a stunning focal point while also allowing natural light to flood into the space. One of the biggest benefits of bow bay windows is their ability to create a sense of spaciousness in any room. Because they curve outward, bow bay windows extend beyond the exterior walls of the building, creating additional square footage that can be used for seating areas, reading nooks, or even plant displays. This added space can help to make a room feel larger and more open, which is especially beneficial in smaller homes or apartments.
In addition to their aesthetic appeal, bow bay windows also offer a number of practical benefits. For one, they can help to improve a home's energy efficiency by providing additional insulation and reducing drafts. They can also serve as a natural ventilation system, allowing fresh air to flow into a room and reducing the need for air conditioning during the warmer months. Overall, bow bay windows are an excellent choice for homeowners who are looking to add a touch of elegance and sophistication to their interior design while also enjoying a number of practical benefits. Whether you are looking to create a cozy reading nook or simply want to let more natural light into your home, a bow bay window can provide the perfect solution. So why wait? Start exploring the possibilities of bow bay windows today and see how they can transform your home!
CHOOSE ANY TYPE OF FINISH & STYLE FOR YOUR WINDOW
The sashes of bay windows are arranged at a certain angle relative to each other. All window blocks are connected to each other by a special profile – a bay window sash.
A bay window has three openings, available in angled projections. A bow window usually has four or five. A bay window's overall structure consists of a picture window with two other windows, usually smaller, on either side. A bow window's structure is curved, creating a rounded appearance on the outside of the home.
The price of bay or bow windows depends on the size of the opening, difficulty of installation, heat and sound insulation requirements, additional accessories and the design you choose for your home.
Financing Options Available

No Payments 12 Months

0% Financing

0$ Down

Easy Pay Program

Affordable
When it comes to window replacement, homeowners are often faced with the decision of whether to choose a full frame…
At Window Seal West, we believe exceptional quality shouldn't come with a heavy price tag.
My circumstances for changing my window and door were unfortunate. Window Seal West came recommended by my insurance company and the guys' service was extremely professional with things done timely. All my questions were answered and my new stuff is more efficient and better secure than what I have before. Thanks again guys!
I love our new French doors on the patio! The design is amazing and makes our patio feel like a little café. It took a while to find the right door, but this one is perfect! Highly recommend Window Seal West if you want great design, install and service.
Quick install, done on time, these guys know what they're talking about. Sergey is really knowledgeable and helped me make the right choice for our basement windows. Cheers!
Replaced all the windows in my house. Best quote from Alex with some helpful advice. Crew came when scheduled and finished in one day. Windows are very nice! Had one glitch which they rectified with no issues. Highly recommend this company.
We hired Window Seal West to produce and install new windows and doors. We enjoyed being able to visit their showroom and see the product. The salesman Mike was helpful and knowledgeable, the estimates were done in our home immediately. The product arrived in a very timely manner. The three-man crew did an excellent job with attention to detail. The inside was finished very nicely with all the necessary trim and modellings. We were very happy with the finished product. We would highly recommend them to others.