Experience the Luxury of
Our Fibreglass Doors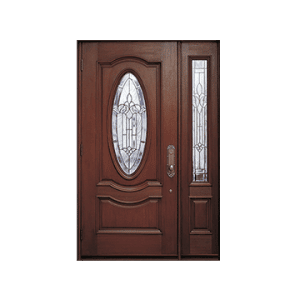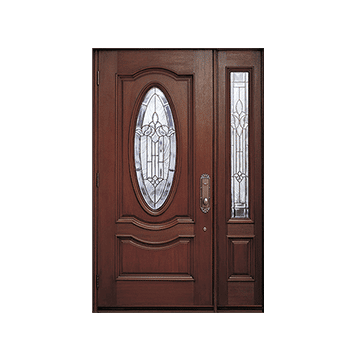 The Fibreglass Doors That Make the Home
With a selection of top-tier fibreglass doors at our stores, you can completely transform your home for the better. Sourced right here in Calgary and made with the latest technology, our fibreglass doors can work for all entries and exits around your home. Tough and durable, our fibreglass doors in Calgary can enhance the quality of your home, while ensuring it is protected at all times. 
Its stylish appeal, enhanced natural light, and customizable design mean you can increase the value of your home in no time at all. For a door that brings out your home, our doors and windows replacement in Calgary are for you.
What Are Fiberglass Doors?
Fiberglass doors are made of a composite material that consists of glass fibers and resin. They are becoming increasingly popular as an alternative to traditional wood or steel doors. Fiberglass doors are known for their durability, energy efficiency, and low maintenance requirements. They are also available in a variety of styles and colors to fit any home décor. Additionally, fiberglass doors can be painted or stained to match the look of real wood. They are resistant to dents, scratches, and weather-related damage, making them a great choice for homes in areas with extreme temperatures or harsh weather conditions. Overall, fiberglass doors are a great investment for homeowners who want a long-lasting and low-maintenance door option.
Fibreglass Doors Replacement & Installation In Calgary
Find Out Why Our Fibreglass Doors Are Canada's Choice
At Window Seal West, we provide the highest quality fibreglass doors at the lowest competitive prices. All our fibreglass doors are sourced from right here in Calgary, ensuring practically, durability and cost-effectiveness. We are able to provide a wide selection of fibreglass doors in different styles and finishes. Coupled with superior, and affordable installation services, we can completely enhance the quality of your home for years to come. 

Don't miss out on the chance to get top-tier fibreglass doors in Calgary with Window Seal West. Check out our collection today. 
Types of Fibereglass Doors
Fiberglass doors are an excellent choice for both their durability and aesthetic appeal. There are three main types of fiberglass doors: single, with sidelights, and double.
Single fiberglass doors are ideal for smaller entryways or as interior doors. They offer a sleek and modern look and come in a variety of styles and finishes.
Fiberglass doors with sidelights are perfect for larger entryways, adding more natural light to your home while still providing the same durability and insulation as single fiberglass doors.
Double fiberglass doors are a popular choice for front entryways. They provide a grand entrance to your home and come in various designs and finishes to complement your home's exterior.
All types of fiberglass doors are energy-efficient, durable, and low-maintenance. They are resistant to warping, cracking, and rotting and can withstand harsh weather conditions. With their long lifespan and stylish designs, fiberglass doors are a practical and attractive option for any home.
Endurable, Aesthetic, and Energy-Efficient Fibreglass Doors
Fibreglass doors are a popular choice among homeowners and business owners alike, offering a multitude of benefits that make them an attractive option for any type of property. These doors are made from a combination of glass fibres and resin, which creates a strong and durable material that is resistant to weather, scratches, and dents. The manufacturing process for fibreglass doors involves creating a mould of the desired size and shape, then layering the glass fibres and resin in the mould to create a solid and sturdy door. One of the main benefits of fibreglass doors is their durability. Unlike traditional wooden doors, which can warp and rot over time, fibreglass doors are resistant to moisture and weather damage. This means they will last longer and require less maintenance than other types of doors. Additionally, fibreglass doors are highly energy-efficient, providing a strong barrier to keep out drafts and maintain a comfortable temperature inside the building.
Another advantage of fibreglass doors is their versatility. They can be customized to fit any style or design preference, with a variety of finishes and colours available to match the aesthetic of the property. Fibreglass doors can also be designed to mimic the look of traditional wooden doors, without the drawbacks of wood such as warping, rotting, or termites. In terms of security, fibreglass doors are also a great option. They are incredibly strong and difficult to break, making them a solid choice for high-traffic areas or areas where security is a concern. Additionally, fibreglass doors are fire-resistant, providing an added layer of protection in case of emergencies. Overall, fibreglass doors are a smart investment for any property owner looking for a durable, energy-efficient, and attractive door option. With their versatility, strength, and low maintenance requirements, they are a wise choice for any type of building or renovation project.
At Window Seal West, we believe exceptional quality shouldn't come with a heavy price tag.
My circumstances for changing my window and door were unfortunate. Window Seal West came recommended by my insurance company and the guys' service was extremely professional with things done timely. All my questions were answered and my new stuff is more efficient and better secure than what I have before. Thanks again guys!
I love our new French doors on the patio! The design is amazing and makes our patio feel like a little café. It took a while to find the right door, but this one is perfect! Highly recommend Window Seal West if you want great design, install and service.
Quick install, done on time, these guys know what they're talking about. Sergey is really knowledgeable and helped me make the right choice for our basement windows. Cheers!
Replaced all the windows in my house. Best quote from Alex with some helpful advice. Crew came when scheduled and finished in one day. Windows are very nice! Had one glitch which they rectified with no issues. Highly recommend this company.
We hired Window Seal West to produce and install new windows and doors. We enjoyed being able to visit their showroom and see the product. The salesman Mike was helpful and knowledgeable, the estimates were done in our home immediately. The product arrived in a very timely manner. The three-man crew did an excellent job with attention to detail. The inside was finished very nicely with all the necessary trim and modellings. We were very happy with the finished product. We would highly recommend them to others.