Breaking a window can be a stressful experience, but it's important to remain calm and take the necessary steps to ensure your safety and the safety of those around you. Here's a step-by-step guide on what to do if you break a window in your bedroom.
First, take a look at the window and assess the extent of the damage. Is it a small crack or is the window shattered? Is there any glass that could pose a safety hazard? Take note of any sharp edges or broken pieces of glass.
Use protective gloves and a broom and dustpan to carefully remove any glass debris from the area. Be sure to dispose of it in a safe manner, such as wrapping it in newspaper or putting it in a plastic bag.
Use a thick blanket or a piece of cardboard to cover the broken window until it can be replaced. This will help prevent any cold air or moisture from entering your bedroom.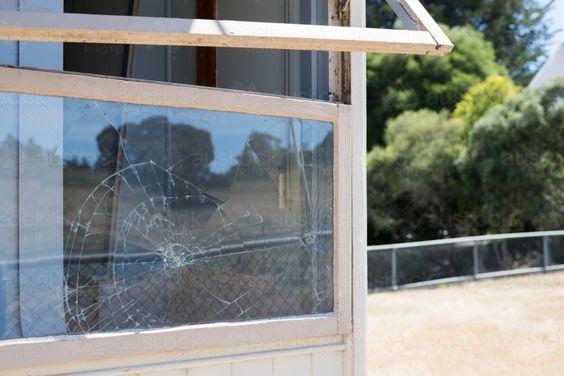 Contact a professional window replacement company to assess the damage and provide a quote for repairs or replacement. It's important to address the issue as soon as possible to ensure your safety and prevent any further damage.
Here are a few things to consider before starting a repair job and hiring window contractors.
1. Assess the overall condition of the rest of the windows in the house. Modern windows are made to last almost more than 20 years. Still, depending on manufacturers and the technology used, it may become apparent that windows used most in the house may develop issues before expiration. Some areas of the house are exposed more to the forces of nature than other parts of the house. Whether your windows were installed 15 years ago or five years ago, there is a possibility that replacement may be needed.
Over the years, our project managers learned from homeowners that often, it is not clear whether to replace old windows or repair them. In most cases, there is a temporary fix available for the issues associated with common window problems or when broken house windows. However, if you notice water damage, drafts and parts coming off the windows, it is best to replace them.
Essential aspects to consider during your evaluation are:
The number of window panes. Single pane windows are less energy efficient, which means replacing them would substantially decrease the amount of money needed to support optimal climate in the residency. Double and triple pane windows provide better energy efficiency in the winter and the summer.
Window material. Windows made of steel or wood most likely are outdated and require replacing. It costs a lot more to maintain the efficiency of these windows every year than to replace them with new vinyl windows.
Window Glass. If the window glass is broken, loose, or has moisture in between, the best way to address this problem is by contacting the original manufacturer.
Air Leakages. It is a common issue that can be assessed by lighting an incense stick and using it to find the window area with leakage. There are several ways to fix this issue by replacing the caulking or adding new weather sealing.
Condensation. Humidity levels in the house often cause excessive condensation inside the window. The sealed unit is damaged and loses energy efficiency if condensation is observed between the panes. Most window manufacturers will address this issue by installing the new sealed unit under warranty.
Window Hardware. Some hardware stops working before any other window parts and is usually quickly replaced by the manufacturer.
If your windows are not under warranty, it would be tough to repair any of the damages outlined above, as most manufacturers in Canada produce custom-made windows and these parts are not interchangeable with other brands. In this case, replacing the windows is your best option.
If the window was broken due to a natural disaster, such as a storm, you may be able to file a claim with your insurance company to cover the cost of repairs or replacement.
Remember to always prioritize your safety and the safety of those around you when dealing with a broken window. By taking the necessary steps and seeking professional help, you can ensure that your bedroom window is repaired or replaced in a timely and efficient manner.