Window installations are known to be fairly costly procedures, so it's essential that you know the costs of your area upfront to allow you to budget effectively. If your budget isn't big enough, you may not be able to replace all your windows. As window replacements are a great way to keep your house insulated, secure and dry, you definitely don't want this to happen! If you're replacing window glass in Calgary, follow this short guide to prices and installation to make the process as smooth as possible.
How Much Does It Cost to Replace Window Glass in Calgary?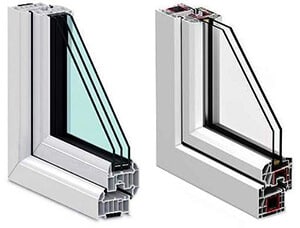 Different window contractors may offer slightly different prices, but costs typically range from $400 to as high as $2100 per window, depending on size and type. Buying the window glass is probably the most expensive part of replacing windows, especially if you go for double-glazed glass over single-glazed. Some Calgary window companies estimate as low as $250 per window, though this greatly depends on your home, the amount of window glass required and where you want the window installed. Prices vary between contractors and are subjective, so it's best to request a quote before you commit to a specific company.
Does the Price Change for Different Rooms?
Typically, the price of window glass does change depending on which room you're putting it in. For example, costs for bedroom windows in Calgary are estimated to start at around $650, whereas kitchen windows are lower at a $550 starting price. Prices change for window replacements in different rooms because some are bigger, some require more work and some take longer to custom-fit and style. For bigger windows, the window glass will cost more, and for the extra work, you'll be paying more to the contractors.
Which Windows Are the Most Expensive?
Without a doubt, the most expensive window installations are bay windows, which are costly everywhere. In Calgary, they are estimated to cost between $2800 and $4500! Bay windows consist of three glass panels, so it makes sense that the glass would cost more money. These windows are popular because they let in lots of light, look great on the exterior of your house and make the interior seem much more spacious. If you're thinking of installing bay windows in your home in Calgary, contact a local contractor for further information.
Why Should You Replace Old Windows in Calgary?
Canada is listed as the third coldest nation in the world, behind Antarctica (which is known primarily for its freezing temperatures!) and Russia. So, with temperatures hitting record lows in Canada, it's important to replace your old windows in Calgary if they aren't properly insulating your home. You might not notice it right away, but having properly fitted, double-glazed windows is one of the best ways to keep your home warm, especially as energy prices rise.
If you've got a budget set aside for home improvement, consider spending it on a window installation job. You won't regret it and will soon notice just how transformed your house is with new windows.
Window Seal West is proud to have been providing high-quality windows for Calgary and Canadian residents over the past ten years. Not only do we provide the best windows – direct from the manufacturer – but we also offer our clients with invaluable services that can make their homes stand out from the crowd. We offer window installation and window replacement in Calgary for all residents who need it. Our prices are affordable so that anyone can get it. If you need windows in Calgary, and throughout Alberta, we are the team for you. Contact our Toll-Free number on 1-888-818-4211
The price of a plastic window depends mainly on the materials and components from which it is made. Additionally, the price affects the quality of installation, as well as employees trained and experience.
Profile forms the basis of the construction and therefore affects the price of the product to a greater extent. So, analogues are always cheaper than original products. And even if the manufacturer convinces you that the technology is identical to the original, the buyer has no way to verify this in person by visiting the factory.
The main material of the plastic profile is PVC, but in addition to it in the production process other additives are used that are necessary to give the product certain qualities. So, in cheap profiles of dubious origin may be missing titanium oxide, so that the side facing the street will burn out in the sun for a few months – a substance that protects the color of the plastic from changes under the influence of UV rays.
Reinforcing the profile is necessary to strengthen the construction. If you use steel that is not protected against corrosion, the cost of a plastic window is much lower than if you use galvanized steel, which is more reliable and more expensive. Window with classic straight lines and shapes are cheaper, because the technology of production of such a form is simpler. The price of models with rounded outlines is higher. Even more expensive plastic windows of non-standard shapes – round, trapezoidal, mansard windows, etc.
The price of insulating glass is determined by the quality of the glass, the number of chambers, and the gas to fill them. The cost of glass determine the thickness, and the presence of additional coatings – for example, energy-saving or tinting. One-chamber double-glazed window is a budget solution for technical premises and warehouses, but it is not warm enough for living rooms. Extended models exceed them in energy efficiency, but their production requires a wider separation bar and more desiccant – respectively, the cost increases. Two-chamber glazing, of course, is warmer, quieter and more expensive. Three-chamber double-glazed windows are popular in Canada, as the temperature drops below 35 in the winter. The difference in noise and heat insulation is noticeable. It is noticeable in the price, so choose this product often owners of country houses and apartments with individual heating.
Additionally, to improve the performance of the window allows you to fill the chambers with an inert gas – for example, argon. The price of the product will affect accordingly.
On average fittings account for about 15-20% of the cost of the entire plastic window. There is a simple explanation: the mechanism should be reliable and strong enough so that the window could normally open and close, and sashes would not sag under their own weight over time. The more complex the design of the window, the more chambers in the profile and double glazing, the more demands on the quality of fittings and the higher its cost.