Super spacers are a type of spacer that is used in windows. They are made of a variety of materials, but the most common type is made of metal. Super spacers are used to create airtight seals in windows, and they are also used to improve the thermal performance of windows. This blog post will closely examine super spacers and how they can benefit your home.
How Do Super Spacers Benefit Your Windows' Performance? 
Super spacers are a type of spacer used to manufacture energy-efficient windows. They are made of special materials that improve the window's overall performance by providing a thermal break that helps reduce heat loss. Additionally, super spacers can help reduce condensation and improve the window's structural integrity.
There are many benefits to using super spacers in your windows, but they are especially beneficial in colder climates. If you live in an area that experiences extreme temperatures, super spacers can help keep your home more comfortable by reducing the amount of heat loss. Additionally, super spacers can also help improve the overall energy efficiency of your home. 
One of the best ways to control the amount of heat loss is by using super spacers. It allows your home to rely less on heating and cooling systems, leading to lower monthly energy bills. Homeowners spend $74 billion annually for home heating and cooling – super spacers will reduce that cost. It also helps to create a more comfortable indoor environment for you and your family during extreme weather conditions.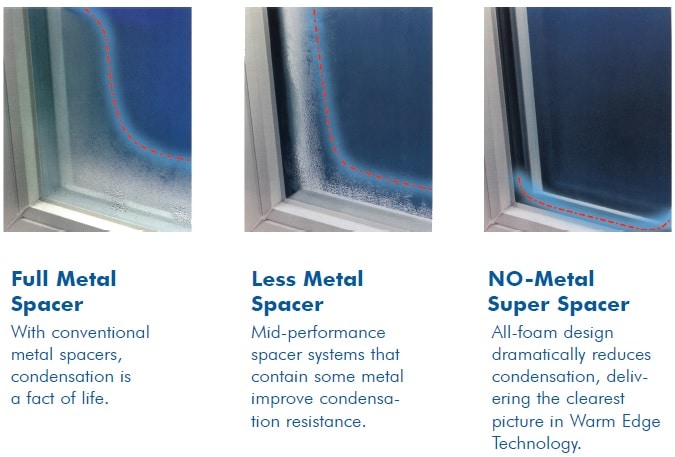 What is the Cost of Super Spacers for Windows?
Super spacers are a form of energy-efficient window spacer that can help improve a window's thermal performance. They are made of a low-conductivity material, such as silicone, that helps reduce heat transfer between the panes of glass.
While super spacers can be more expensive than traditional window spacers, they can offer several benefits. For example, super spacers can help reduce condensation inside a window and improve its overall durability.
Before you consider adding super spaces to your windows, it is important to know the potential costs. The cost of super spacers varies depending on the type, the size of the window, and the number of windows treated. For a typical home, the cost of super spacers can range from $50 to $200.
Super spacers are made of materials that reflect heat and cold to help reduce energy bills, so they might be worth the extra expense if you are trying to lower your utility bills. 
Are Super Spacers Right For Your Home?
While the benefits of super spacers are clear, it's important to ensure that they are the right fit for your home. Super spacers are an advanced type of insulation used in both new and existing homes. They are made from various materials, including fibreglass, cellulose, and foam.
Super spacers are designed to provide a barrier between the inner and outer layers of your home, which helps improve your home's overall energy efficiency. They can also help to reduce noise levels, making your home more comfortable and peaceful.
Before you consider super spacers for your home, it's important to consult a professional to ensure they are the right fit for your needs. Our team can help determine whether they're the best option for you!
Are Super Spacers Worth It?
Super spacers provide several benefits that include:
Enhanced Comfort & Thermal Performance: By allowing passive solar heat gain and creating more uniform temperatures on the glass, super spacers work to provide an all-around more comfortable home environment by improving temperature distribution throughout your house. Additionally, because the larger spacer creates a larger cavity for argon or krypton gas in between panes, it improves insulated windows or doors' ability to improve comfort and last longer. 
Higher R-Value: As explained above, these larger cavities allow for greater R values. That means this upgrade is also great for preventing drafts and reducing outside noise from entering your living space. 
Extended Lifespan: Because super spacers allow for R values that exceed regular standards, energy costs are reduced, and maintenance tasks are dramatically decreased than what is needed with standard windows. And when maintenance is required, the process can often be done faster thanks to the optimistic parameters of super spacers—extending the overall lifespan of windows, as opposed to standard windows.
Increased Security: There are numerous styles of super spacers that come with added hardware. The different hardware provides additional protection against forced entry and can help soundproof an area.
Improved Acoustics: The structural aspect produces a reliable barrier between outdoor elements and the inside of your home. It is great because it means less noise shall be made, allowing bedrooms to remain quiet and restful through the night.
Complete comfort and peace come from uncompromised performance. The Pinnacle Superior Spacer System features a ribbon application process for increased blockage in all corners and optimised performance across a wide range of temperatures for an enhanced screen appearance. Along with a wide angulation capability for accurate applications during installation, TPS Investment casting for tightened thermoplastic properties and fewer thermal deficiencies across critical connections. It makes for easy removal from the substrate without harsh chemicals or mechanical persuasion and contains no Triclosan (anti-microbial) additive!
Super spacers are great for window replacement in Edmonton as they provide many benefits. They are more energy-efficient, improve the window's acoustic performance, and offer seals more resistant to water and air leakage. If you are looking for a windows replacement, Windows Seal West can help. We offer a variety of windows and doors that can suit your needs. Contact us today for more information.